1,000 Vegan Recipes
Author:
ISBN-13:
9780470085028
ISBN:
0470085029
Pub Date:
2009
Publisher:
Wiley & Sons, Incorporated, John
Summary: 1,000VeganRecipes It's like getting 5 cookbooks in 1! 80 Appetizers and Snacks 253 Salads, Sandwiches, and Soups 170 Main Dishes 46 Breads and Muffins 138 Cookies, Cakes, and Other Desserts And Much More! Praise for 1,000 Vegan Recipes "Robin Robertson has done something extraordinary. I am awed by the depth and breadth of her book, by her expertise and virtuosity, and by the sheer joy that is expressed in 1,000 Vega...n Recipes. It's not just vegans who will be inspired. Everyone who loves good food will benefit greatly from her outstanding work." -John Robbins, author of Diet for a New America, The Food Revolution, and The New Good Life "1,000 Vegan Recipes is a wonderful resource, filled with recipes that are as delicious as they are healthful. I highly recommend it." -Neal Barnard, M.D., President, Physician's Committee for Responsible Medicine "1,000 Vegan Recipes is destined to become an essential and well-used cookbook for vegans and a valuable resource for cooks of every persuasion." -Tal Ronnen, author of The Conscious Cook: Delicious Meatless Recipes That Will Change the Way You Eat "Robin Robertson's reputation as a great vegan cookbook author reaches another level with 1,000 Vegan Recipes. It's a wonderful reference for vegans and can be used by anyone who cooks and enjoys great-flavored food." -Ken Bergeron, Vegan Certified Executive Chef,author of Professional Vegetarian Cooking

Robertson, Robin is the author of 1,000 Vegan Recipes, published 2009 under ISBN 9780470085028 and 0470085029. Three hundred sixty eight 1,000 Vegan Recipes textbooks are available for sale on ValoreBooks.com, one hundred eighty one used from the cheapest price of $13.87, or buy new starting at $12.27. [read more]
Product Details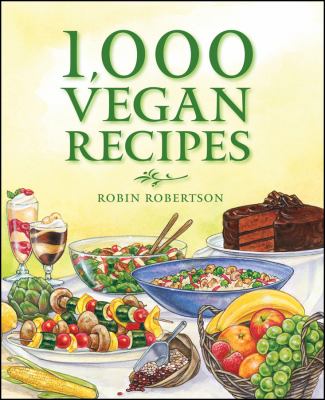 ISBN-13: 9780470085028
ISBN: 0470085029
Pub Date:
2009
Publisher:
Wiley & Sons, Incorporated, John
Valore Books is the college student's top choice for cheap 1,000 Vegan Recipes rentals, or new and used copies for sale.