Wills Textbooks
Browse New & Used Wills Textbooks
If you want to find out more about writing wills or getting them done properly to ensure they are legal, we can provide the books you need. Buy cheap wills textbooks to delve into this area of law and get the best discounted prices you could hope for. You can even rent wills textbooks online if there are one or two text books you need for just a short time. Look for Gilbert Wills; Wills, Inheritance and Families; Writing a Living Will Using a Durable Power of Attorney; and Practical Guide to Estate Planning and Administration. We've got many other affordable deals to be had too, so make sure you browse the entire range to get the information on wills that you need. Don't skimp in this area if you're studying it - there is plenty of knowledge here and you can also find the cheapest deals on every copy.
Results 1 - 15 of 15 for Wills Textbooks
1.
2.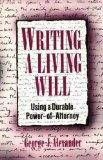 3.
4.
5.
Gilbert Wills
by Johanson, Stanley M.
ISBN: 9780159000403
List Price: $21.95
6. 7. 8. 9. 10. 11. 12. 13. 14. 15. Showing 1 - 15 of 15 - Browse More Wills Textbooks for Sale