Standards (GAAP, IFRS, etc.) Textbooks
Browse New & Used Standards (GAAP, IFRS, etc.) Textbooks
Students going through accounting and economics courses will undoubtedly need a selection of standards textbooks relating to GAAP, IFRS and so on. If this sounds like you, you're in the best place to rent used standards textbooks to help you complete your chosen course. Our titles include the IFRS Primer International GAAP Basics and International Financial Reporting Standards to name just two. With so many other used standards textbooks available to rent or buy, you'll be sure of finding just what you require right here. With savings going as high as over 90%, you can see why so many other college students look to buy standards textbooks online right here. Don't miss out on a great deal - further your accounting career today with our help. It's by far the easiest way to make sure you gain access to all the classic volumes on accounting standards. Boost your knowledge today.
Results 51 - 58 of 58 for Standards (GAAP, IFRS, etc.) Textbooks
51. 52.
53.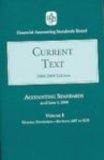 54.
55. 56. 57.
58. GAP Study Guide
by Jarvis, Michael D., Educati...
ISBN: 9780967544656
List Price: $28.50