Dec 28 2008 at 6:00 pm by
Victor
The New Year is a time when everyone gets a fresh start. Throw away old habits and start 2009 on the right track. ValoreBooks.com has put together a list of easy and reasonable New Year's Resolutions that all college students can  benefit from!
1. START RECYCLING
Recycling will not only benefit the environment, but it can enhance your pocketbook, as well.
After you wake up from the New Year's festivities on January 1st, dust yourself off, grab a trash bag and get to cleaning! Be sure to pick out bottles and aluminum cans, then make a run for the recycling center to collect a few dollars for your good deed. You'll be helping the environment and making a pretty penny at the same time. Not sure where you can recycle your treasure? Hop over to Earth911.com to locate your nearest recycling location.
Another fantastic way to start recycling is by purchasing or selling used text books. ValoreBooks.com is an online marketplace that allows students to buy used text books at a lower cost than on-campus bookstores. Users can also use the ValoreBooks.com Textbook Sell Back program to earn some cash for their used college school books. When you purchase or sell used textbooks it helps out the environment and your wallet! For more information on textbook recycling, check out the ValoreBooks.com SAVE GREEN blog!
2. LOSE THAT "FRESHMAN 15"
The dreaded curse the of the "Freshman 15" may be somewhat deceptive. It can strike Freshmen, Sophomores, Juniors and Seniors alike. Even students on the 5 year program aren't immune to the notorious college weight gain that is generally anywhere from 5 to 20 lbs. Stress, lifestyle changes and college meal plans chalked with unhealthiness are usually the main culprits of those extra pounds. So what are some student-savvy ways to shed the weight? Well,  the first, and probably most obvious, answer is to eat healthy. True, that meal plan offers tons of free food but chances are trips to the vending machine and fast food drive-thru are part of your routine, as well. Cut out the snack foods to see a significant change in your waistline and your wallet.The 2nd important step to driving away the "Freshman 15" is exercise. Most college campuses offer various physical education classes or access. You can get in shape and earn credits at the same time! Or just go about it the old fashioned (and free) way by taking a couple laps around the block.
3. GET MORE SLEEP
Being well rested is crucial for a healthy academic lifestyle. While that all-nighter may have seemed like a great idea to jam-pack your brain with an entire coursework's worth of information, it probably did some serious damage to your body. Losing sleep can be detrimental to a student's health in many ways, including: daytime drowsiness, decreased mental activity, headache, memory lapse and delirium, just to name a few. None of which are going to be any sort of benefit for daily functionality, let alone an exam. For a full list of how sleep deprivation can become harmful to one's health, click here.Finding time to sleep can be tricky for any college student. Between class, projects, exams, jobs and a social life, it can be difficult to catch the necessary hours of sleep. Keeping a schedule is one way to assure those Z's get snagged. Scheduling will also help eliminate all-night cram sessions, which will in turn provide a better chance at retaining study material, promote alertness and provide more energy throughout the day. While you may miss the late night infomercial marathon, your mind and body will thank you later.
4. RELAX A LITTLE!
Winter break is often a sigh of relief for most students. Finals are finally over and while the weather may be less than appeasing, it's a great time to catch up with friends and family. So how do you keep the low stress lifestyle once school starts up again?Organize your life – This doesn't just mean rearrange your closet and pick up your room. Although, that would probably help out. Instead, start planning ahead, make a schedule and keep things in a relatively designated area. Knowing what you're doing, where you're going and where all your things are will save time and you may just actually start showing up on time for things!
- Don't sweat the small stuff – Sounds easy enough, right? Most of us can get wrapped in little problems and unforeseen issues. Focus on what you can take care of now, at this moment. The big picture is far more important than miniscule inconveniences.
- Spend time with friends – Being around those you care about and make you feel good is one way to let your worries slide away for a while. Try getting together for a movie night or just go grab some coffee.
- Turn off your phone – "Me Time" can be great for anyone caught up in a busy lifestyle. Cut yourself off from the world for an hour or even day to let your mind play catch up and relax.
5. PLAN AN AWESOME SPRING BREAK
Heck yeah! You deserve it, right? Getting a head start on vacation planning is the key to securing the best deals you can find. Looking for sandy beaches, bikinis and tons of other college students? Check out ParadiseParties.com for the best deals in the most popular locations. They've even been generous enough to put together Spring Break packages. StudentCity.com is another good find to locate awesome deals for your much-needed getaway.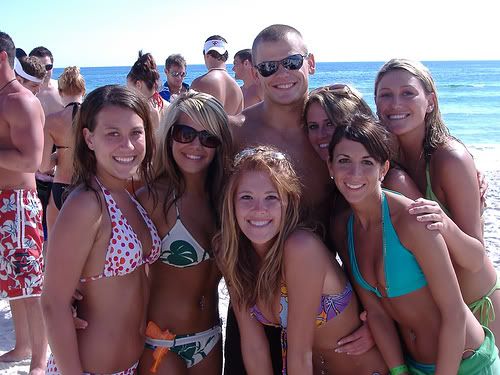 If being surrounded by scantily clad co-eds isn't your deal, you may want to think about taking a Spring Break trip to make a difference. The United Way offers local and national opportunities that allow students to volunteer their time for a great cause. To learn more about an Alternative Spring Break, click here.If you're worried about not being able to stick to your goals, try implementing the buddy system with one or more of your friends. Offer support and keep each other in check to make sure everyone sticks to their resolution for the best results!