Mar 9 2009 at 5:15 pm by
Victor
Since rising textbook prices seem to be an expected occurrence at the beginning of each school semester, we have put together a few simple steps for students to beat the increasing costs.
Research shows that the overall cost of textbooks has been on a continual rise for many years. If the trend continues, many students may not be able to afford their books. However, by following the follow tips, any student can benefit financially.
1. Major Textbook Buying Tips
• Opt for a cash back credit card or a rewards card over the use of cash, debit or checks for purchases. You will receive an added advantage when purchasing your textook(s).• Contact your professor or his/her office about a month before the start of the semester and inquire about the course material. This gives you the opportunity to purchase the required material before the major demand sets in. When purchasing used book the earlier you buy, the better, as a wider selection of top quality texts is still available. This allows for a higher resale value at the end of the semester.
o Ask your professor if bundled materials really will be used. If he or she says the CD-rom isn't required or the companion workbook won't be needed, you can save much more money finding a seller who isn't offering these add-on items.
• If you plan on purchasing an older edition, be sure that the savings are substantial. While you may be getting a great deal now, you also may be risking a low resale value, especially if an updated edition is about to be released.
• When buying a used text, be sure to check the condition of the book as well as any comments the seller has provided. If a deal sounds like it may be too good to be true, contact the seller with any questions you have regarding the item's description.
• Check seller feedback left by previous customers. While you may save a few dollars by going with a low-rated seller, you can also risk the chance of having a hassle when ordering from them. A smooth and timely transaction can be far more valuable than the couple bucks.
• Always search for a text using the book's ISBN number. Searching by referencing a title or author's name can lead to confusion and may end up in the result of you purchasing a similar book but not the correct material.
• Shop around for the most expensive books, as this is where the most savings can be found. Many online stores still offer new and used books at great prices, even as costs continue to rise elsewhere.
2. Condition is Key
The easiest and best way to ensure the highest sell-back value of your textbooks is to keep them in great condition. Using book covers, a digital highlighter and even hardshell backpacks or messenger bags are all ideal ways to maintain the condition of your books.
3. Sell books for you AND your friends.
If you've already done the research for your own textbook sell backs, why not offer the service to your friends? We all have friends who are too busy, or even lazy, to sell back their books at the end of the semester. It takes almost zero extra time to help them out and it will make you some money in the process! Just negotiate a fair price or percentage for your work and you'll both win.
4. Ultimate Selling Tips
• Don't wait until the start of the semester to sell your books. The best time to sell your texts back is about 7-10 days before a new semester. However, if one of your books is due for a new edition release, it may be best to sell it right at the end of the current semester to avoid a drop in value.
• If you're planning on selling back a book that came with a bundle, be sure you save all the original packaging and pieces. Sending a book with an incomplete bundle may reduce the buy back price.
• Many buyback websites will offer payment via Paypal. This may seem like an quick and instant way to receive your payment, but unless the site specifically states that they will cover processing fees, you may stand to lose part of your money. PayPal often charges 2-3% for each transaction so be sure to make sure you won't be slammed with this extra fee. If you do not want to pay incur these fees, most online stores actually cut and mail you a check when your book is received!
• Another great money-saving feature to keep an eye out for is free shipping. Just be sure you compare the total return value including shipping fees to ensure that you really are saving money. Most online stores offer free shipping and you can print your pre-paid shipping label right when you finalize your order.
Buying discount and used textbooks is a great way to save some major money while in college and taking advantage of buyback programs. We have documented the latest textbook sales trends as well as some helpful hints which can be viewed here.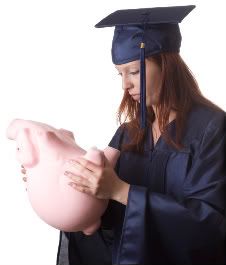 By simply following these tips and advice you can help avoid potential financial hardship brought on be the increasing cost of attending college. We hope that these tips will help put a little extra cash in your wallet. Please let us know what you think by leaving your comments below!