Colonial and Post-Colonial Geographies of India
Author:
ISBN-13:
9780761934363
ISBN:
0761934367
Pub Date:
2006
Publisher:
SAGE Publications, Incorporated
Summary:
This collection of original essays by scholars of geography from India, Western Europe, and the USA provides important insights into the way contemporary geographers are engaging with India. The earlier narrow colonial focus that saw India as a country of resources and "peoples" (tribes and castes) has now been discarded for a broader view located in mainstream intellectual frameworks and informed by a public policy
...
perspective. This volume highlights how contemporary geographers see and write on topics such as the state, nation, community, environment, and division of labor, while keeping in mind issues of spatiality and territoriality.Among the many current issues dealt with are: The diverse and often imaginative ways in which Hindu nationalist organizations have sought to reinvent India as Hindustan. Also discussed are the militant cartographies employed by them, with reference to Ayodhya and BhujA fresh understanding of the ongoing dispute in Kashmir through the lens of geopoliticsIndia?'s emerging geographies of work in the context of global commodity chainsWomen?'s labor market opportunities and empowerment in the framework of globalizationThe importance of the concept of home and domestic space for forging nationalist policies in the context of Anglo-Indian women in India before and after 1947The production of urban space and urban politics, with corresponding ideas about governance, citizenship, and participationThe politics and self-understanding of the rural and urban poor in the face of economic liberalizationTruly inter-disciplinary in its approach, this volume vividly captures the changing nature of place-making in contemporary South Asia. It will be of interest tostudents and scholars of geography, history, development studies, and political science.
[read more]
Ask this seller a question about this item
After submitting your question, the seller's response will be emailed to you.
Product Details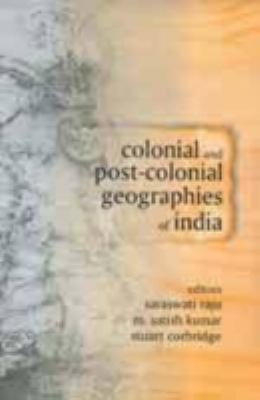 ISBN-13:
9780761934363
ISBN:
0761934367
Pub Date:
2006
Publisher:
SAGE Publications, Incorporated
www.ValoreBooks.com is a student's number one resource for cheap Colonial and Post-Colonial Geographies of India rentals, or new and used condition books for purchase.