Social Research Methods
Author:
ISBN-13:
9780139554285
ISBN:
0139554289
Edition:
4
Pub Date:
2000
Publisher:
Prentice Hall
Summary:
Preface This edition represents the fourth stage in a project that has gone on for almost 20 years. The first edition (1984) crystallized my teaching approach developed over the prior decade. I drafted it on an electric typewriter, an ancient artifact that many readers of this edition may not have seen except in old movies. The second edition (1990) was prepared on the first generation Apple Macintosh personal comput
...
er. Imagine a computer with 128K (not megs) of RAM and no hard drive, modem, or ethernet port. During the life of the third edition (1995), the internet revolution has changed everything from world commerce to the way colleges and even high schools offer courses. Students increasingly find that their classes are accompanied by web sites that post syllabi, links to reading assignments, and gradebooks with scores from tests. Students may add or drop classes by computer and participate in electronic office hours or section discussions via e-mail. Homework may be sent in by e-mail or posted on students' own web pages. It is appropriate, therefore, that this new edition for the second millenium should reflect the role of the World Wide Web. In writing this version, I often had two windows open on my computer screen--the word processing document for this manuscript and a Netscape portal to the rest of the world. Without leaving my office, I might jump from a library catalogue to a professional association's code of ethics to a government agency's data archive. I expect that readers of this text will often be seated at a computer alternating between reading from this hard copy and browsing the web. Just as teachers and students have learned new ways of functioning on the internet, so social researchers have also adapted to this new technology. This edition reflects those changes in social research methods. A new chapter-length section (Appendix A) summarizes the variety of ways that social researchers are using the World Wide Web. In addition, all of the other chapters have not only been revised to update the material but also to include a new subsection called "Web Sites." Here you will find links to information that supplements and extends the hard copy on each topic. It goes without saying that no one really writes a book (or a new edition) alone. My thanks go to many people--the reviewers Sherri Lind Hughes (Western Maryland College), James Rotton (Florida International University), and R. Dean Wright (Drake University) for their comments on past editions, colleagues both friends and strangers who have taught me, former students now numbering in the thousands who have taken my research methods course, and my family for their support. David Dooley University of California, Irvine
[read more]
Ask this seller a question about this item
Most sellers respond to questions in 48 hours or less. The seller's response will be emailed to you.
Product Details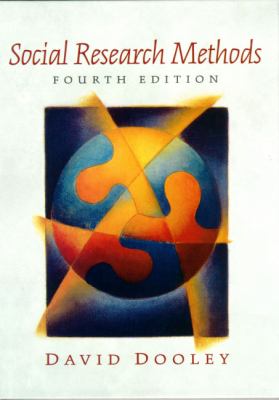 ISBN-13:
9780139554285
ISBN:
0139554289
Edition:
4th
Pub Date:
2000
Publisher:
Prentice Hall
www.ValoreBooks.com is the best place for cheap Social Research Methods rentals, or new and used condition books ready for you to buy.