Chemistry The Molecular Science
Author:
ISBN-13:
9780495119609
ISBN:
0495119601
Edition:
3
Pub Date:
2007
Publisher:
Brooks/Cole
Summary: Conrad L. Stanitski retired in 2005 as Professor of Chemistry and Department Chair at the University of Central Arkansas. Currently, he is a visiting Professor of Chemistry at Franklin & Marshall College. He received his B.S. in Science Education from Bloomsburg State College, an M.A. in Chemical Education from the University of Northern Iowa, and a Ph.D. in Inorganic Chemistry from the University of Connecticut. Dr.... Stanitski is a prolific author and has won many teaching awards, including the CMA CATALYST National Award for Excellence in Chemistry Teaching, the Thomas Branch Award for Teaching Excellence, and the Samuel Nelson Gray Distinguished Professor Award from Randolph-Macon College. Dr. Stanitski was Chair of the Division of Chemical Education during 2001. [read more]
Ask this seller a question about this item
After submitting your question, the seller's response will be emailed to you.
Product Details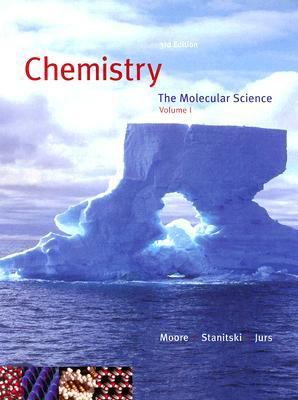 ISBN-13: 9780495119609
ISBN: 0495119601
Edition: 3rd
Pub Date:
2007
Publisher:
Brooks/Cole
Valore Books is unbeatable for cheap Chemistry The Molecular Science rentals, or used and new condition books that can be mailed to you in no time.
Customer Service
Site Info
Valore Accounts
Books
Textbooks
© 2005-2014 SimpleTuition, Inc. SimpleTuition is a registered trademark of SimpleTuition Inc., All Rights Reserved.
Designated trademarks and brands are the property of their respective owners.