War Against the Jews 1933-1945
Author:
ISBN-13:
9780553345322
ISBN:
055334532X
Pub Date:
1986
Publisher:
Bantam Dell Pub Group
Summary: "[This is] a major work of synthesis, providing for the first time a full account of the Holocaust not merely as it completed the Nazi vision but as it affected the Jews of Eastern Europe. Drawing upon materials in half a dozen languages and writing with a restraint that seems almost beyond credence, Ms. Dawidowicz, a professor of History at Yeshiva University, has produced a work of high scholarship and profound mor...al import....In [her] severely controlled narrative there are chapters on the camps as total institutions, the pitiful efforts of the German Jews to maintain a fragment of dignity, and the close relation between German foreign policy and race....Even about the much-despised Judenrate, the Jewish local authorities sometimes set up by Nazi decree and sometimes meant to thwart the oppressors, Mrs. Dawidowicz writes with objectivity and compassion." [read more]
Ask this seller a question about this item
After submitting your question, the seller's response will be emailed to you.
Product Details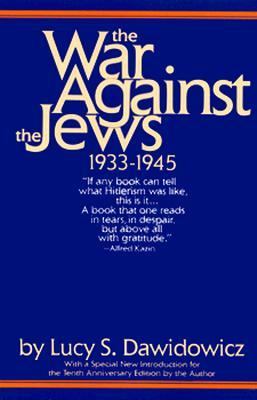 ISBN-13: 9780553345322
ISBN: 055334532X
Pub Date:
1986
Publisher:
Bantam Dell Pub Group
Valore Books is unbeatable for cheap War Against the Jews 1933-1945 rentals, or new and used condition books ready for you to buy.
Customer Service
Site Info
Valore Accounts
Books
Textbooks
© 2005-2014 SimpleTuition, Inc. SimpleTuition is a registered trademark of SimpleTuition Inc., All Rights Reserved.
Designated trademarks and brands are the property of their respective owners.