Vocabulary Power 1: Practicing Essential Words
Author:
ISBN-13:
9780132431781
ISBN:
0132431785
Pub Date:
2007
Publisher:
Pearson Education
Summary: Acquiring a strong vocabulary doesn't have to be difficult. Vocabulary Power uses the latest research on memory to make this process simple, effective, and enjoyable. A three-book series, Vocabulary Power: teaches the most important words from the General Service List (500 words) and Academic Word List (400 words) presents each word in eight different contexts to help students learn and remember the word easily encou...rages students to apply the words to their own lives, making vocabulary more relevant and useful can be used in class or as a self-study text Each Vocabulary Power book features: 300 new words -- 10 per chapter high-interest readings adapted from articles on a variety of up-to-date topics exercises on word families, multiple meanings, collocations, and expressions that expand students' knowledge of the words engaging discussion questions and writing topics that elicit natural use of the words quizzes to check students' progress and minimize teacher prep time Word Builder exercises and charts in the Appendix to help students focus on the meaning and use of word parts The Vocabulary Power series includes Vocabulary Power 1 (Low Intermediate), Vocabulary Power 2 (Intermediate), and Vocabulary Power 3 (Advanced). [read more]
Ask this seller a question about this item
After submitting your question, the seller's response will be emailed to you.
Product Details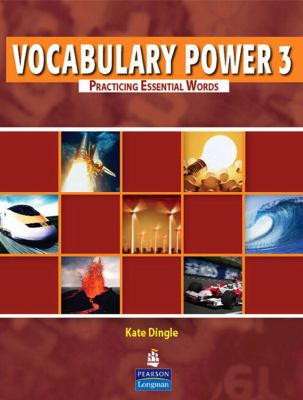 ISBN-13: 9780132431781
ISBN: 0132431785
Pub Date:
2007
Publisher:
Pearson Education
ValoreBooks.com is unbeatable for cheap Vocabulary Power 1: Practicing Essential Words rentals, or new and used condition books for purchase.
Customer Service
Site Info
Valore Accounts
Books
Textbooks
© 2005-2014 SimpleTuition, Inc. SimpleTuition is a registered trademark of SimpleTuition Inc., All Rights Reserved.
Designated trademarks and brands are the property of their respective owners.