Single Case Research Designs in Educational and Community Settings
Author:
ISBN-13:
9780130623218
ISBN:
0130623210
Edition:
1
Pub Date:
2010
Publisher:
Prentice Hall
Summary:
Written for advanced undergraduate- and graduate-level courses in Single Case or Single Subject Research Designs, and Research Methods in Educational and Community Settings. A practical nuts-and-bolts how-to guide to carrying out single case research designs, this new textbook is focused squarely on single case research in educational and community settings, emphasizing practice versus theory. The authors have put to
...
gether a unique guidebook for courses in single case and single subject research for educational and community settings, and conceptualizes the background underlying this research approach, walking readers through a step-by-step approach to the components involved in doing such research. The text covers single case designs with a brief historical background on the development of these design approaches; some of the basic logistical barriers to and solutions for carrying out research in applied settings; and nuts-and-bolts procedures of carrying out such research with regard to designing and implementing measurements systems, choosing appropriate designs, and graphing and analyzing data. In addition, the text covers the basics of disseminating research via various professional outlets such as conference presentations and journals for researchers and practitioners. The tables and graphics included list step-by-step procedures for carrying out various data collection and research design strategies, offering concise summaries of some key features of the main procedural elements of single case research, and a guideline to crucial features and concepts. Written for a broad range of educational and other human services professionals, including teachers (general and special education), school psychologists and counselors, social workers, communication disorders specialists, and recreation, occupational, and physical therapists, this new "how-to" textbook fills a gap in the market for a single case, single subject research design guide focused on research in educational and community settings, with a strong emphasis on practice versus theory. Frequent, significant use of tables and other graphics gives concise illustrations and summaries of the critical features under discussion. Featured throughout every chapter. Tables with step-by-step descriptions of how to implement the various stages and procedures of the design(s) are featured in chapters on specific designs(e.g., withdrawal/reversal designs, multiple baseline/multiple probes designs). These tables help tofurther illustrate and summarize the key stepsin design implementation. Many examples of graphed data from published studies are incorporatedthroughout most of the chapters,providing an array of examples of how to graph data, how to analyze data, the different types of experimental single case designs, and more.
[read more]
Ask this seller a question about this item
Most sellers respond to questions in 48 hours or less. The seller's response will be emailed to you.
Product Details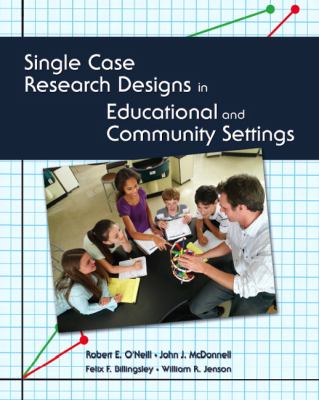 ISBN-13:
9780130623218
ISBN:
0130623210
Edition:
1st
Pub Date:
2010
Publisher:
Prentice Hall
Valore Books is hard to beat for cheap Single Case Research Designs in Educational and Community Settings rentals, or used and new copies that can get to you quickly.