Catholic Study Bible New American Bible, College Edition
Author:
ISBN-13:
9780195282795
ISBN:
0195282795
Edition:
2
Pub Date:
2006
Publisher:
Oxford Univ Pr
Summary: Since its publication in 1990, the Catholic Study Bible has been widelyaccepted for use by advanced students that have benefited from its wealth ofbackground information on the historical, literary, and theological dimensionsof the Bible.Now this landmark resource for Catholics has been significantly upgraded. Thestudy notes have been completely rewritten, there are new and expanded essays(including ones treating Cat...holic traditions of biblical interpretation) andsidebars on special topics in the study materials and biblical text.The heart of the CSB's ancillary materials is an extensive Reading Guide thatleads the reader through the Scriptures, book-by-book. Helpful marginalreferences in the biblical text point to specific pages in the Reading Guide,easing the retrieval of important background information. Also included are thecomplete Sunday and weekday lectionary readings for all three liturgical yearsof the Church, 36 pages of authoritative, full color New Oxford Bible Maps (withindex), and a 70-page New American Bible Concordance (not included in theCollege Edition).The Catholic Study Bible, Second Edition remains the unexcelled resource foruse in parish and higher education settings. [read more]
Ask this seller a question about this item
After submitting your question, the seller's response will be emailed to you.
Product Details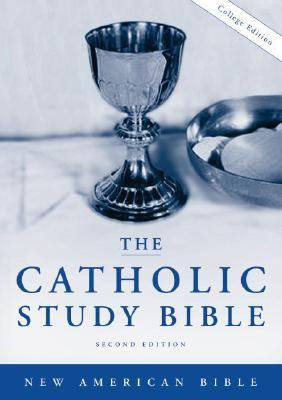 ISBN-13: 9780195282795
ISBN: 0195282795
Edition: 2nd
Pub Date:
2006
Publisher:
Oxford Univ Pr
www.ValoreBooks.com is your source for cheap Catholic Study Bible New American Bible, College Edition rentals, or used and new copies that can get to you quickly.
Customer Service
Site Info
Valore Accounts
Books
Textbooks
© 2005-2014 SimpleTuition, Inc. SimpleTuition is a registered trademark of SimpleTuition Inc., All Rights Reserved.
Designated trademarks and brands are the property of their respective owners.