Elements of Homotopy Theory
Author:
ISBN-13:
9780387903361
ISBN:
0387903364
Publisher:
Springer
Summary: The writing bears the marks of authority of a mathematician who was actively involved in setting up the subject. Most of the papers referred to are at least twenty years old but this reflects the time when the ideas were established and one imagines that the situation will be different in the second volume. Because of the length, it is unlikely that many people will read this book from cover to cover, but it will be ...used for reading up on a particular topic or dipping into for sheer pleasure - and the fact that the details may not be quite as expected should add to the enjoyment. [read more]
Ask this seller a question about this item
After submitting your question, the seller's response will be emailed to you.
Product Details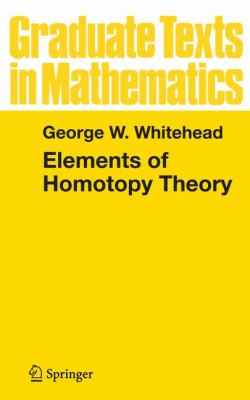 ISBN-13: 9780387903361
ISBN: 0387903364
Publisher:
Springer
ValoreBooks.com is your source for cheap Elements of Homotopy Theory rentals, or used and new copies that can get to you quickly.
Customer Service
Site Info
Valore Accounts
Books
Textbooks
© 2005-2014 SimpleTuition, Inc. SimpleTuition is a registered trademark of SimpleTuition Inc., All Rights Reserved.
Designated trademarks and brands are the property of their respective owners.