Aspects of Automated Natural Language Generation
Author:
ISBN-13:
9783540553991
ISBN:
3540553991
Pub Date:
1992
Publisher:
Springer
Summary: This volume presents the proceedings of the SixthInternational Workshop on Automated Natural LanguageGeneration held in Castel Ivano, Trento, Italy, April 5-7,1992. Besides an invited lecture by Nadia Magnenat-Thalmann,a well-known researcher in computer animation, on creatingand visualizing speech and emotion, the volume includes the17 thouroughly reviewed papers accepted for presentation,selected out of the submiss...ions to the Workshop, as well as11 statements contributed to panels on multilinguality andgeneration or extending language generation to multiplemedia. The accepted papers by leading researchers fromJapan, North America and Europe fall in sections ongenerator system architecture, issues in realisation,issues in discourse structure, and beyond traditionalgeneration. [read more]
Ask this seller a question about this item
After submitting your question, the seller's response will be emailed to you.
Product Details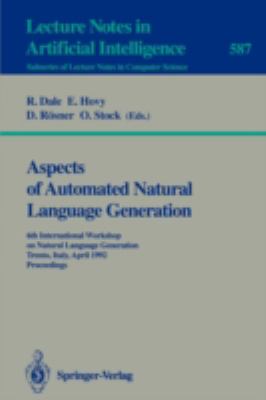 ISBN-13: 9783540553991
ISBN: 3540553991
Pub Date:
1992
Publisher:
Springer
ValoreBooks.com is the best place for cheap Aspects of Automated Natural Language Generation rentals, or used and new condition books that can be mailed to you in no time.
Customer Service
Site Info
Valore Accounts
Books
Textbooks
© 2005-2014 SimpleTuition, Inc. SimpleTuition is a registered trademark of SimpleTuition Inc., All Rights Reserved.
Designated trademarks and brands are the property of their respective owners.