Competitive Business Strategy for Teaching Hospitals
Author:
ISBN-13:
9781567203493
ISBN:
1567203493
Publisher:
Greenwood Publishing Group, Incorporated
Summary:
Without new ways to think and manage itself strategically, academic healthcare faces terminal deterioration. Heightened competition and changing dynamics have brought turbulence to teaching hospitals, and the main impact has been financial. Langabeer and Napiewocki give health care executives the tools and concepts of strategic management they need and ways to strengthen analytic skills, all based on up-to-date empir
...
ical research, cast in language they can grasp and relate to, and specially tailored to help teaching hospital administrators cope successfully with today's marketplace challenges. Board members, trustees, and others with decision- and policy-making responsibilities will also find the book essential, as well as their teaching colleagues and students on their way up in the hospital industry. The authors maintain that if nonprofit teaching hospitals are to compete successfully with private for-profit hospital chains, not only must they learn the terrain of the playing fields, they must also learn how the game itself is played. Langabeer and Napiewocki offer that knowledge, and in doing so have written the first book of its kind to address comprehensively the entire realm of strategic management aimed clearly at teaching hospitals and major academic medical centers. With findings from primary empirical research into a large sample of teaching hospitals and focusing on the statistical relationships to economic performance, they provide crucial insights into why certain hospitals are more effective than others. Their book will also help healthcare executives relate strategy research on industrial organizations to their own teaching hospital environments. In doing so, their book fills a void in the literature on business strategy that for too long has caused consternation among healthcare administrators and aspirants alike.
[read more]
Ask this seller a question about this item
Most sellers respond to questions in 48 hours or less. The seller's response will be emailed to you.
Product Details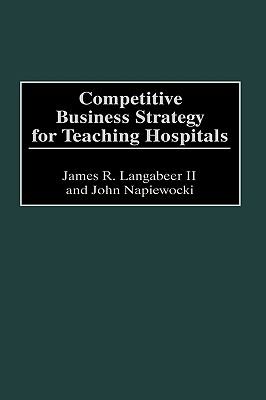 ISBN-13:
9781567203493
ISBN:
1567203493
Publisher:
Greenwood Publishing Group, Incorporated
Valore Books is a student's number one resource for cheap Competitive Business Strategy for Teaching Hospitals rentals, or new and used condition books ready for you to buy.